Christopher Jacobson - Lead vocals/vocal melodies/Bass Guitar
Christopher has been singing for 33 years and sites Tony Harnell, Jeff Scott Soto, Midnight, Geoff Tate, Carsten Schultz, Stephen Pearcy, Michael Sweet, Billy Idol, David Lee Roth, and Seal as main influences.
Also capable on guitar, Christopher and can be heard playing on Untaymed " IV", "The Sniper", "CJJ 2010",  "Last Man Standing", "August Immortal" ,and "Roledex Inferno"CD's. Also the singer for the pop-electronica project "Maskerade" ,which was formed in 2001.
Other bands Christopher has been involved in from 1988 to the present include: Lost Reality, British Steel, Rokken, Meanstreet, Blackjack Romeo, Grey Sky Sunday, Caroline Blue, Doc Savage,Back For More, and Project Retro.
Discography of Untaymed Cds:-Untaymed(1994),2,On the Prowl,IV,The Sniper,9199,Live 10-10-10,One Night in November.
Discography for Solo Cds:CJJ 2010,Last Man Standing,August Immortal,Roledex Inferno..
Equipment/Gear: Guitar: Ibanez Prestige Rg652fx and 1987 RG550. Bass: B.C. Rich USA ST Bass, Ampeg amplification and Mark Bass cabinets.
Mike Bushey - Lead guitar
Lead guitarist for the band from 2007 to present and in 1993 and 1994. Played on the 3 song "1994" CD.
Mike as been playing for over 30 years and has been the lead guitarist for the following bands: Untaymed (current), Second Heat (band is no longer active), Rokken - Dokken tribute (current), Back For More - Ratt tribute (current).
Equipment/Gear: Jackson USA Custom Shop guitars, ESP guitars, B.C. Rich USA guitars, Ibanez RG550 guitars, Quilter power amps, Digitech GSP1101 processor (studio), BOSS GT-1000 (live), Whirlwind cables, D'Addario NYXL strings, Dunlop and Clayton picks, Line 6 and XVive wireless.
Lee Knickerbocker - Bass Guitar
 Bass guitar for the band from March 2019 to present.
Lee has been playing bass and guitar for over 30 years and has played bass for the following bands: Deveria, Doc Savage, Crazy Head Mazie.
Equipment/Gear: LTD bass, Markbass Heads & cabinets.
Mike Smith has also been a member of band briefly in the early 90's and has been our current/predominant live drummer for the past 10 years. Mike has many many years of playing experience and is also a drum instructor.
Mike has played in numerous bands over the years but his main other project is British Steel, which is a premier Judas Priest tribute act - as close to the real thing as you get without seeing Judas Priest themselves.
Mike currently plays Pearl drums exclusively.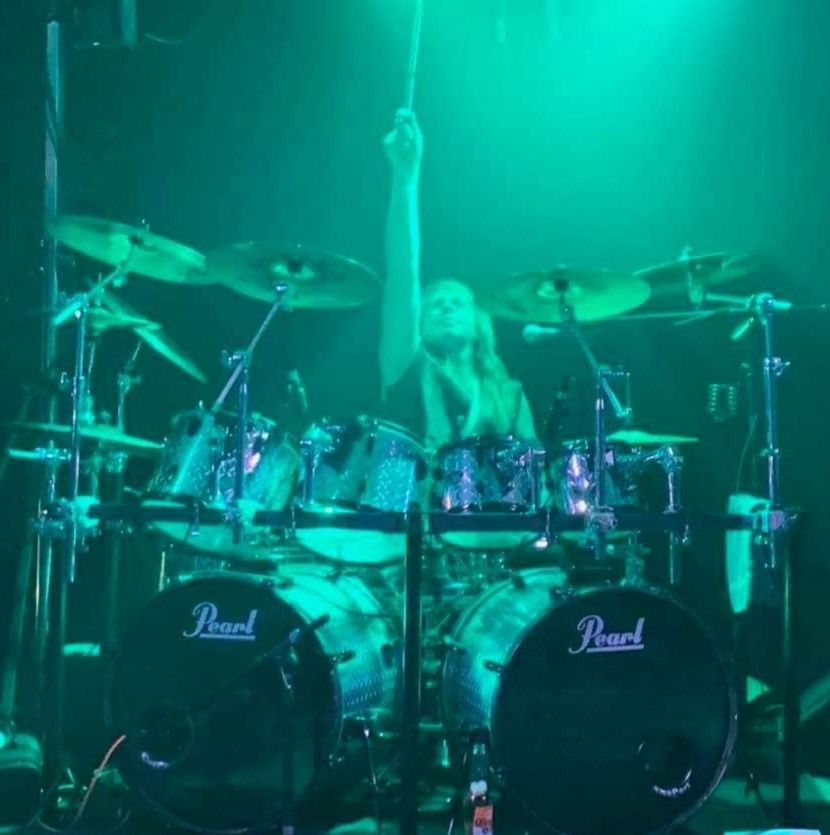 Untaymed - Untaymed (formed 1991)
Formed in 1991 by Christopher Jacobson, Untaymed has survived through numerous musical climates and countless lineup changes while still staying true to the melodic rock/metal sound.
Untaymed has opened for many National acts such as: Judas Priest, Dokken, Ratt, Angel, Jackyl, WASP, Belladonna, Quiet Riot, Sebastian Bach, Lillian Axe, Vicious Rumors, White Lion, Britny Fox, Stephen Pearcy, Lynch Mob, Dirty Penny, Veins of Jenna, Skid Row, L.A. Guns, Firehouse, Dio Disciples, Y&T, and Last in Line.